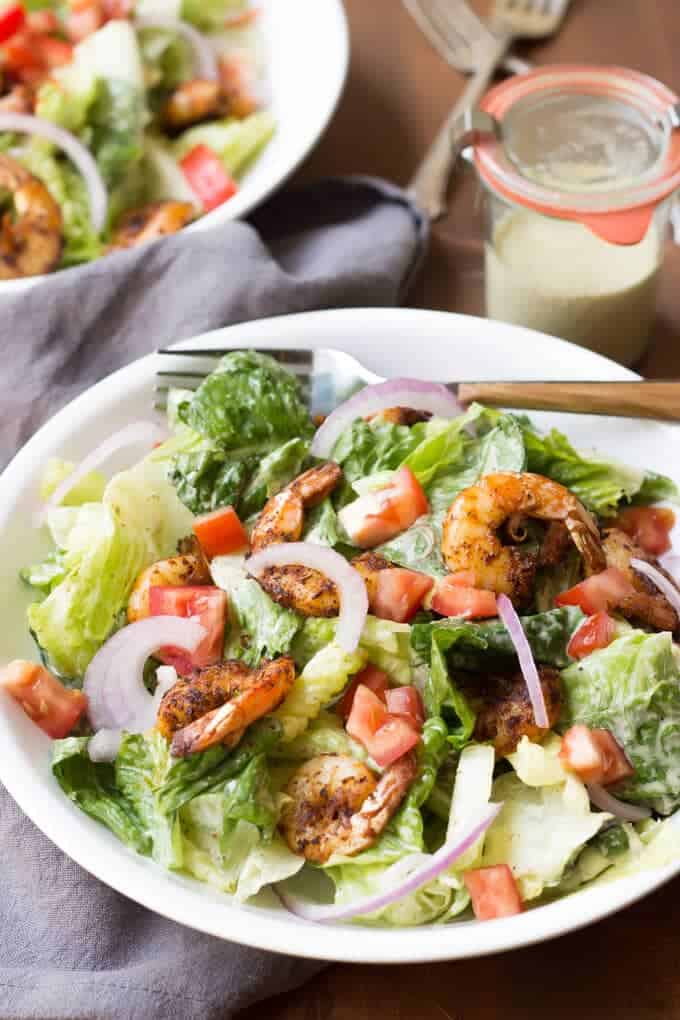 Try the Wicked Spatula's twist on Caesar salad for a great light summer supper (or lunch)!
Ingredients (serves 4):
2 large heads romaine lettuce (about 10-12 cups)
1 large garlic clove, minced
4 anchovy fillets or heaping 1/2 teaspoon anchovy paste
1 egg
Juice of one lemon
1 Tablespoon Whole Grain Dijon mustard
1/4 teaspoon worcestershire sauce (optional)
1/2 cup olive oil
Salt and freshly cracked black pepper
Cajun Shrimp
1 pound shrimp, peeled and deveined
1 teaspoon smoked paprika
1 teaspoon thyme
1/2 teaspoon garlic powder
1/2 teaspoon cayenne pepper
Pinch of salt
3 Tablespoons olive oil
Optional Toppings
Diced tomato
Avocado
Toasted pumpkin seeds
Sliced red onion
Olives
Directions:
For the dressing
In a blender combine all ingredients except for the oil. (can also use an immersion blender).
Once combined pour in the oil, while blending, in a slow steady stream until emulsified. Season with salt and pepper and any additional lemon if needed.
Set aside.
For the cajun shrimp
In a medium bowl combine all of the spices.
Peel and devein the shrimp and pat them dry. Toss the shrimp with the spices.
Heat 3 Tablespoons of olive oil in a large skillet over medium-high heat.
Place the shrimp in the skillet in a single layer. Sear for 1 minutes until they begin to blacken.
Flip and sear another minute or so until the are cooked through.
For the salad
In a large bowl toss the chopped romaine with the dressing.
Divide between 4 plates and top with shrimp and chosen toppings.
Serve with an extra crack of black pepper.
Enjoy!