Damn Delicious has a crazy easy recipe for a quick lo mein. If you are not vegan/vegetarian, you can add some meat to this as well.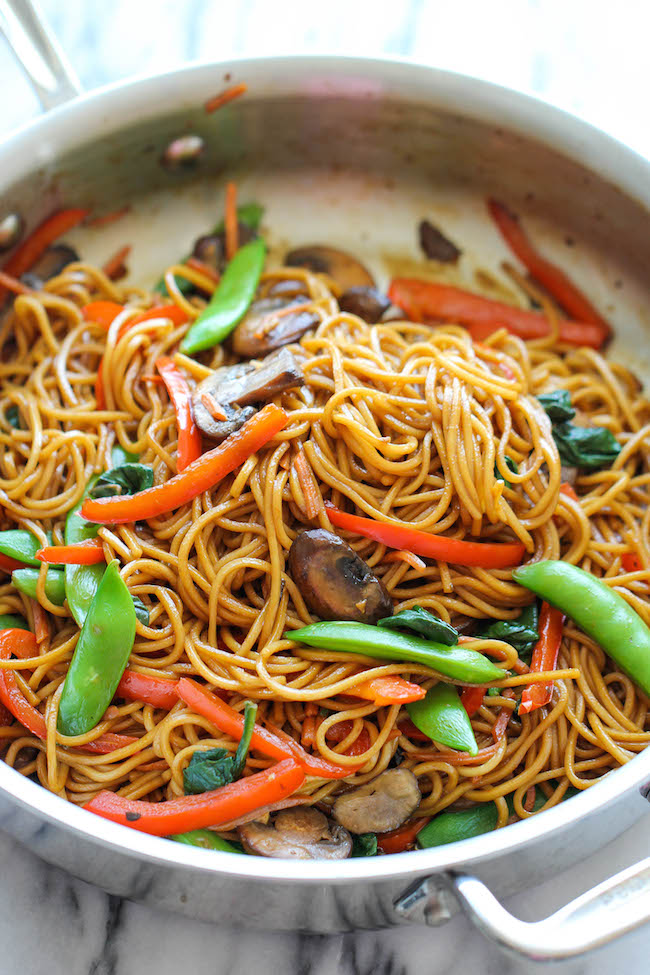 Ingredients:
8 ounces lo mein egg noodles (for vegan use spaghetti noodles)
1 Tbsp olive oil
2 cloves garlic, minced
2 cups cremini mushrooms, sliced
1 red bell pepper, julienned
1 carrot, julienned
1/2 cup snow peas
3 cups baby spinach
For the sauce:
2 Tbsp reduced sodium soy sauce, or more, to taste
2 tsp sugar
1 tsp sesame oil
1/2 tsp ground ginger
1/2 tsp Sriracha, or more, to taste
Directions:
In a small bowl, whisk together soy sauce, sugar, sesame oil, ginger and Sriracha; set aside.
In a large pot of boiling water, cook lo mein egg noodles according to package instructions; drain well.
Heat olive oil in a large skillet or wok over medium high heat. Add garlic, mushrooms, bell pepper and carrot. Cook, stirring frequently, until tender, about 3-4 minutes. Stir in snow peas and spinach until the spinach has wilted, about 2-3 minutes.
Stir in egg noodles and soy sauce mixture, and gently toss to combine.
Serve immediately and enjoy!